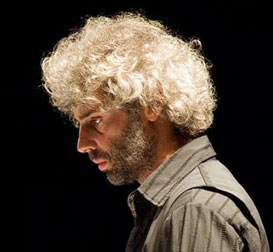 Born in Urbino (Italy) in 1975, ENEA SORINI studied in Pesaro, where he achieves the II° level degree in Baroque Singing; in the meanwhile he attended singing masterclass by Gloria Banditelli and Claudio Cavina.
He collaborates, as singer and percussionist, mostly with the ensemble of ancient music Micrologus and with Les Musiciens de Saint Julien, La Morra, Pera Ensemble, which he performs in the most prestigious festivals all around the world: he also cooperated with the belgian choreographer and dancer Sidi Larbi Cherkaoui.
Within the Baroque music, has participated in several productions and performances, under the direction of Diego Fasolis, Antonio Florio, Marco Mencoboni, Gianluca Capuano, Carlo Ipata.
He made records with Alpha, Sony, Hyperion, Tactus; he worked for Radio3 (Italy), Radio France, RSI Swiss, Polskie Radio, WDR3.
www.eneasorini.it