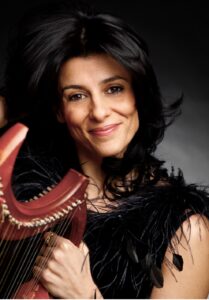 PATRIZIA BOVI
Born in Assisi, Patrizia Bovi studied voice at the Conservatorio di Perugia and with Sergio Pezzetti. Early ensemble work included medieval/Renaissance music with Ensemble Alia Musica (Milan), during which time she attended various seminars on early vocal performance practice in Italy and Europe. Concurrently she interpreted sixteenth- and seventeenth-century Italian repertory including Monteverdi (Ballo delle Ingrate, Combattimento di Tancredi e Clorinda, ecc.) and related repertory (La Dafne from Marco da Gagliano, Euridice from Jacopo Peri and La Morte di Orfeo from Stefano Landi), and in subsequent years widened her areas of expertise to include music from the thirteenth-century through contemporary music.
In 1984, together with Adolfo Broegg, Goffredo degli Esposti and Gabriele Russo, she founded Ensemble Micrologus, specialists of medieval Italian music, whose performances continue to find acclaim among international audiences.
Together with Micrologus she recorded 29 CDs for Quadrivium, Opus 111, Micrologus Label including the prizewinning "Landini and his Contemporaries" (Diapason d'or de l'annèe 1996), "O Jhesu dolce" (Diapason d'or 1997), and "Napolitane" Opus 111 (Diapason d'or de l'annèe 1999), "Carnivalesque" (Diapason d'or 2014).
She founded the Medusa project in 2011 to perform unknown repertoires, first two projects were "Lucrezia la figlia del papa"on Lucrezia Borgia's life and "Justiniane or l'aer veneziano" on 15th c. venitian repertoire.
She has been a member of the Giovanna Marini Vocal Quartet from 1990 to 2013, participating in all its creations and tours.
She has been in residence several times at the Royaumont Foundation in Paris for the realization of research and teaching projects: the one on Adam de la Halle, in collaboration with the Sorbonne University, the University of Saint Denis and the Federico II University of Naples, led to the first modern staging of "Jeu de Robin et Marion," in its full version and in its original language.
Bovi has collaborated with various musicians, including Antonio Florio, Pino de Vittorio, Vincent Dumestre, Jean Tubery, Marcel Peres, Crawford Young, Begona Olavide and Chiara Banchini.
In the 2007/8 season she directed and performed music for the choreographer Sidi Larbi Cherkaoui's project "Myth," which saw performances in over eighty theaters in Europe and North America. Since then she makes part of the music and performes for some of his productions: Play, Icon, 4D, Venn, 3S, Babel Words  directed together with Damien Jalet. In 2011 "Babel words" received two "Laurence Olivier" awards.
Since 2007 she has been on stage with Cherkaoui's Eastman company in all European capitals, in the US, Australia, New Zealand, Malaysia and Japan.
With the singers Fadia Tonb El Hage and Françoise Atlan in 2014 she created "Three faith one God" a concert on the three monotheistic religions which is still performed today.
In 2014 she began a doctorate research project at the University of Leiden on the reconstruction of the performance practice of musical repertoires typical of the unwritten tradition of the Italian fifteenth and sixteenth centuries, preparing a catalog of melodies for singing verses from 1400 to 1600.
She holds seminars and master classes in Italy, at the Adolfo Broegg European Center for Medieval Music Studies, and abroad, at the Butler School, University of Texas – Austin, Early Music department of the University of Melbourne AUS, Fondation Royaumont – Paris and at the Schola Cantorum in Basel.
In 2008 she was awarded the Chevalier des Arts et des Lettres title by the French Minister of Culture.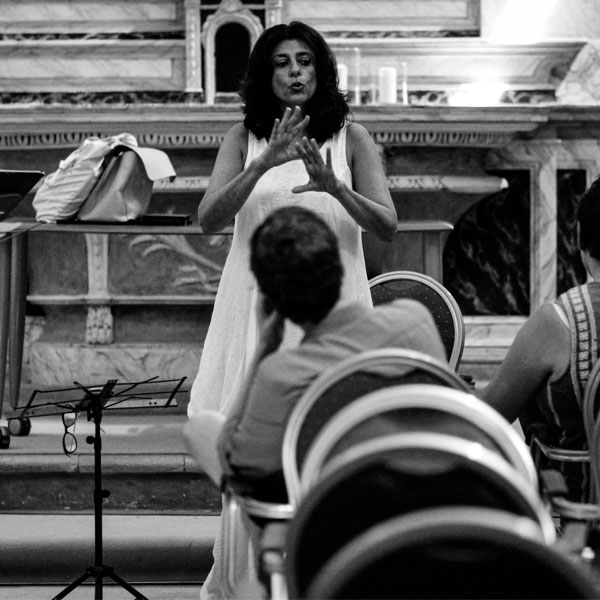 Additionally Patrizia Bovi is active teaching courses on medieval singing, flavored with years of experience in the performance of Italian traditional music, in settings such as Corsi di Musica Antica (Urbino), Fondation Royaumont (Paris) and University of Texas (Austin).
She teachs at the Centro Studi europeo di musica medievale Adolfo Broegg in Spello since 2009.
In 2008 she was awarded the "Chevalier des Arts et des Lettres" from the Minister of French Culture.
She regisstered with Opus 111, Naive, Sony, Harmonia Mundi, Astrèe Auvidis, Alpha,ORF,Zig Zag Territoires.
"I developed a teaching method in collaboration with several European institutions including the Fondation Royaumont in Paris for an international project on the teaching of medieval music".
Stay up to date on our events, concerts and music courses!
Do you want to discover the precious musical tradition of the Middle Ages made up of strings, lutes, wind instruments, songs and much more?