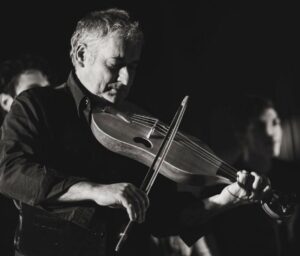 GABRIELE RUSSO, an Umbrian musician, is co-founder of Ensemble Micrologus for which he works on research into the practical techniques and construction of bowed stringed instruments of the medieval period.
He studied classical and rock music (violin and guitar) and also plays folk music as violinist, guitarist and mandolin player with the Umbrian group Sonidumbra. He has appeared both in Italy and abroad, playing in the most important early music festivals with Micrologus.
He has recorded more than 25 medieval music CDs and appeared as well on many other recordings, including with a host of well-known names in traditional and experimental music, such as Fratelli Mancuso, Ambrogio Sparagna, Giovanna Marini, Sonidumbra, Daniele Sepe, Novalia, Raffaello Simeoni, Vinicio Capossela.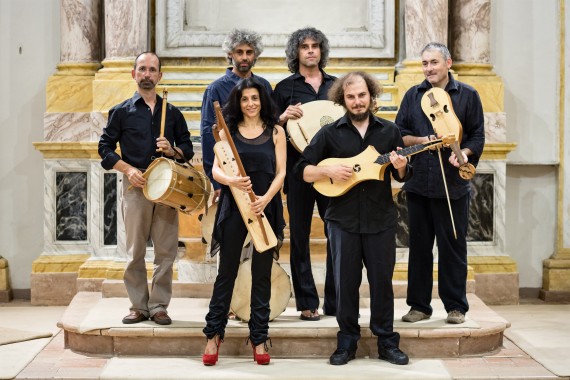 He has given seminars and workshops in various European centres: in Antwerp, Belgium; at the Cité de la Musique in Paris; at the Abbaye de Royaumont in France; Jaroslaw in Poland; at the international centre for early music, Musica Antica in Urbino; in Orte (TR Italy); Maccagno (VA Italy); in Copenhagen and in Mendrisio, Switzerland.
From 2009, has has been teaching, alongside the other musicians of Micrologus, at the International Annual Summer Courses at the Centro Studi "Adolfo Broegg" in Spello, Umbria.
"In addition to the concert activity I performed, in collaboration with the other musicians of the Micrologus, some important soundtracks of Italian films such as" Ragazzi fuori "by Marco Risi," Mediterraneo "by Gabriele Salvatores, Oscar winner as best foreign film '92, "Silence is born" by Giovanni Veronesi."
Stay up to date on our events, concerts and music courses!
Do you want to discover the precious musical tradition of the Middle Ages made up of strings, lutes, wind instruments, songs and much more?