Lute, harp and ensemble music of the early Renaissance and medieval age is the focus of a one-week course in the beautiful hilltop town of Spello in Umbria, Italy, in a renovated fifteenth-century church which is a new centre for early music study (Centro Studi Europeo di Musica Medievale Adolfo Broegg).
The course offers private harp, lute or voice lessons and ensemble coaching and includes local guided trips to study music iconography in awe-inspiring Assisi, Perugia and Foligno, a paradise of medieval and Renaissance art, as well as a concert of Quattrocento music given by Crawford Young, Patrizia Bovi and Leah Stuttard at the beginning of the week.
All levels of musical experience are welcome. Private lessons are offered to solo lute players, singers, harpists; all other instruments are welcome within the context of ensemble teaching. Enrolment is limited to twenty students and will be confirmed by late May 2011 after applications are received. Travel to Italy (Rome Fiumicino Airport, travel to Assisi or Foligno by train) to be paid by participant. Travel agent in the US will be provided upon request.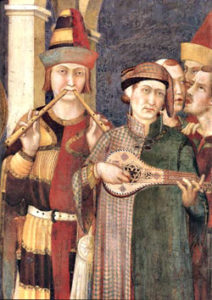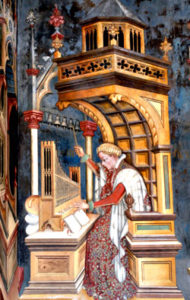 Faculty
Crawford Young lute, ensembles (Basel, Schola Cantorum)
Patrizia Bovi voice, ensembles (Assisi, Ensemble Micrologus)
Leah Stuttard harp, ensembles (London, Ensemble Micrologus)

Where & When
Centro Studi Europeo di musica medievale Adolfo Broegg
Spello, Italy (map).
Arrive Sunday 24 July (faculty concert).
Course starts Monday 25 and finishes Saturday 30 July 2011.
Fee
An all-inclusive fee of $1600.
Covers tuition, private room ($1400 for shared accomodation – two per room), food (breakfast, dinner), concert admission, museum admission, local travel for art trips.
How to apply
Please send an email to info@centrostudiadolfobroegg.it for further information and an application form.